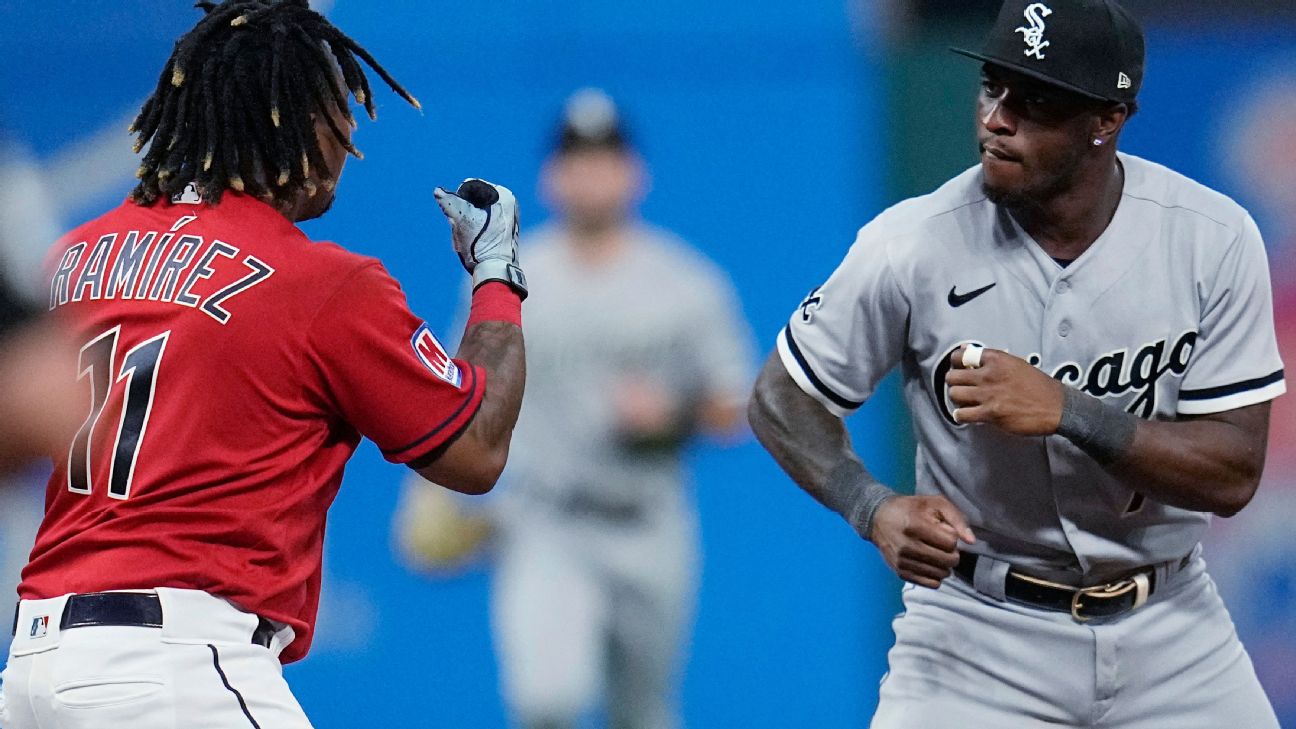 ESPN

CINCINNATI — In the sixth inning of Saturday's game between the Cleveland Guardians and the Chicago White Sox, star infielders Jose Ramirez and Tim Anderson fought at second base and were thrown out of the game.

At Progressive Field, Ramirez's second-base slide finished an RBI double that cut the White Sox's lead to 5-1. As Ramirez put his hands on the bag, he slid between Anderson's legs in front of the second-base umpire, Malachi Moore.

Anderson looked down at Ramirez, who was holding his hand as if to see if his opponent could help him. Anderson didn't, and when they both got back on their feet and regained their balance, they faced each other to fight.

As teammates and coaches came over, punches were thrown, and Ramirez used his right hand to knock Anderson to the ground.

"He said he wanted to fight, and I had to defend myself," Ramirez said after the game, which Cleveland lost 7-4.

Both managers, Terry Francona of Cleveland and Pedro Grifol of Chicago, Mike Sarbaugh, the third-base coach for the Guardians, and Emmanuel Clase, the relief pitcher, were also thrown out of the game.

Francona said after the loss, "It's not funny, but boys will be boys."

Francona told the press that he wasn't sure what started the fight but that one of the umpires had told Anderson to stop yelling at Guardians rookie Gabriel Arias before the fight.

Ramirez and Anderson will likely get suspended, and maybe other people will. Sunday afternoon is the last game in the series for both teams.

Ramirez said that he thought Anderson was being rude. On Friday night, Anderson pushed Guardians rookie Brayan Rocchio off the bag a second after he slid. This caused the umpires to change a controversial call.

Grifol didn't want to talk about the wrong thing directly.

"A lot of people are angry," he said. "God bless; I don't know what's happening in the trainer's room. I won't say anything about it. I'm going to leave this up to MLB. They need to do some work."

Anderson was led to the dugout and forced down the steps by his teammates. He eventually returned to the scrum and was surrounded by his teammates again. After the game, he didn't talk to the press.

Elvis Andrus, a shortstop for the White Sox, said, "We love Timmy." "We'll always be there for him and back him up. He plays hard and gives everything he has on the field. This kind of thing does happen."

The Associated Press helped with this report.