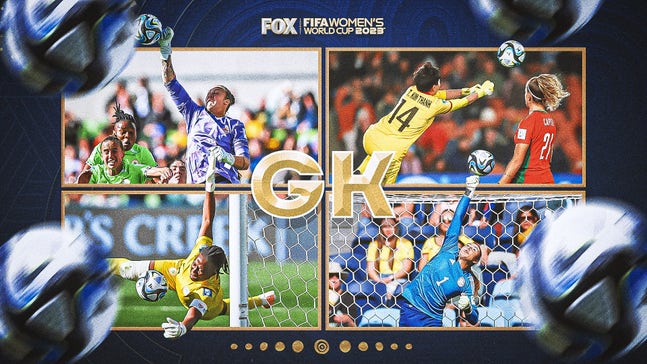 WELLINGTON, NZ — It has been one of the tournament's biggest stories.
The quality of goalkeepers at the 2023 FIFA Women's World Cup in Australia and New Zealand has been off the charts from the start.
In the early games of the group stage, players like England's Mary Earps, Haiti's Kerly Théus, Jamaica's Rebecca Spencer, Nigeria's Chiamaka Nnadozie, Panama's Yenith Bailey, and the Philippines' Olivia Davies-McDaniel made spectacular, acrobatic, and eye-popping stops.
"I've seen some amazing saves from every goalkeeper so far," said Alyssa Naeher, the starting goalkeeper for the United States, to FOX Sports in the mixed zone after Wednesday's 1-1 tie with the Netherlands.
As the goalie for the favorite to win the championship and the two-time defending champion, Naeher has been less busy than almost any other keeper. The 35-year-old goalkeeper has only faced one shot on goal so far, which Dutch forward Jill Roord scored. Her penalty save of England's Steph Houghton in extra time of the 2019 semis was a big reason why the USWNT won again.
But the goalkeeper has been front and center for almost every other team. Stats show this to be true.
Before Friday's game between Argentina and South Africa, which was just over halfway through the first round, there had been 23 clean sheets, compared to just 25 during the whole group stage in France four years ago.
Three games didn't have a score. The most notable was the one between Jamaica and France, where Spencer made five saves against Les Bleus.
In the first half of the first round, keepers stopped 74% of all shots on target. This increased from 70% in France to 65% in Canada in 2015.
The change didn't happen by chance.
"People are starting to realize that if you have a good goalkeeper, anything is possible—your keeper can keep you in the game," said Karina LeBlanc, a former goalkeeper for Canada who has played in five World Cups and is now an analyst for FOX Sports in Sydney.
"There are now more resources going into the job and programs for goalkeeper coaches to learn how to be better coaches. Even FIFA is putting a lot of attention on goalkeeping at the World Cup. It's all connected."
The growth of club games has also been a big factor.
The National Women's Soccer League was only a year old ten years ago. Back then, not many teams had coaches just for the goalkeeper.
LeBlanc, also the general manager of the NWSL champion Portland Thorns, said, "When I played, we once had an equipment coach as our goalkeeper coach." "These are now full-time jobs."
It's the same story in Europe, where women's club soccer has become very popular recently. There, too, more money has come in for training the keepers.
Naeher, who plays for the Chicago Red Stars in the NWSL, said, "The leagues around the world are getting better and better." "Every goalkeeper gets to learn and improve and play high-level opponents weekly."
Not just when playing games.
"Even when you train with your teammates every day, you get better because the competition is so good," Naeher said. "Yes, you can see the results of that right now."
The huge stakes and increased prize money at this year's Women's World Cup have made national teams focus more on ensuring their keepers are as ready as possible. Since the women's club game is getting more attention, there is much more information for goalkeeper coaches to review. It has changed things. At the Australia-New Zealand 2023 match, only four of the first eight penalty kicks were made. Only three of them could be saved.
In Nigeria's first game, Nnadozie stopped Canada's Christine Sinclair from scoring on a 12-yard try. Sinclair is the top scorer in international soccer history for both men and women.
Daniela Solera of Costa Rica stopped Jennifer Hermoso of Spain, who had the most goals ever. In the U.S.'s first 3-0 win, star player Alex Morgan was hit by Vietnam's Tran Thi Kim Thanh.
"Anyone who faces Alex Morgan, for example, will know how many times she's shot to the right and how many times she's gone left," LeBlanc said. "Coaches for the goalkeepers are looking at the shooters they will face. Everything is being looked at."
The keepers have also become more athletic. LeBlanc said that shots into the top corners used to be almost impossible to stop, but that hasn't been the case this month.
The heroics of former World Cup stars like Brianna Scurry and Hope Solo, who are now retired, have made the position more appealing to taller, stronger young women.
Being a keeper is now much cooler than it used to be. More little girls than ever want to play soccer. Once they join the so-called "goalkeepers union," they get specialized, high-quality training.
"When Mary Earps made that save against Haiti, she had probably done it thousands of times before," LeBlanc said. "Our goalkeepers will always train in that block position when we play for the Thorns. When I played, we didn't save like that. That's not a mistake. They do need to work out for that."
Today's keepers are also better all-around soccer players than in the past. Over the last ten years, both the men's and women's sides of the sport have emphasized building possession from the back to the front.
Keepers no longer kick the ball as far as they can as much as they used to. More and more, people expect them to be able to pass as well as stop shots.
LeBlanc said, "The goalkeeper used to be the last line of defense, but now he or she is the first line of offense." "No longer do goalkeepers only practice short-stopping? Keepers are now common and a key part of breaking a high press."
"It makes it fun, in my opinion. This makes it fun, "Even since her first World Cup eight years ago, Naeher said, her position has changed. "It's always a challenge to keep up with how the game changes."
Doug McIntyre writes for FOX Sports about soccer. Before he joined FOX Sports in 2021, he worked as a staff writer for ESPN and Yahoo Sports. He has also covered the men's and women's national teams of the United States at several FIFA World Cups. Follow him at @ByDougMcIntyre on Twitter.