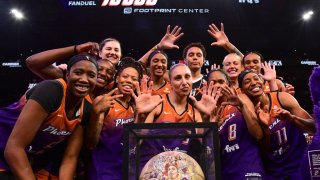 PHOENIX, AZ – AUGUST 3: The Phoenix Mercury team poses for a photo at the Footprint Center in Phoenix, Arizona, on August 3, 2023, during the 10,000th point ceremony for Diana Taurasi #3 of the Phoenix Mercury. PLEASE READ: The user knows and agrees that by downloading and/or using this photo, the user is agreeing to the terms and conditions of the Getty Images License Agreement. Notice About Copyright: Copyright 2023 NBAE (Photo by Kate Frese/NBAE from Getty Images)

Diana Taurasi, a great player for UConn and a star for the Phoenix Mercury, got a pass, and the ball left her hands instantly. Like many others, it was a 3-pointer that went through the net.

Taurasi scored her 10,000th point with 8:23 left in the third quarter of Thursday night's game against the Atlanta Dream. She was the first player in WNBA history to do so.

After Taurasi made the shot, the crowd in Phoenix erupted in cheers, and her teammates surrounded her and jumped up and down in joy.

"It was a cool night. You couldn't have written this any better for our fans and city," Taurasi said. "I'm very grateful to my teammates because this is a moment for everyone. They did come with me and wanted me to do it tonight."

Taurasi had a classic game, showing everyone how great she has been throughout her career. She scored 42 points on 12 of 21 shots, including 6 of 13 from 3-point range. She also made all 12 free throws, and the Mercury won the game 91-71.

At the night's start, the 41-year-old guard needed 18 points to reach 10,000. He ended the night with 10,024.

"I'll feel like I'm 50 tomorrow," Taurasi said with a smile.

"On behalf of the WNBA and basketball fans everywhere, I want to send Diana my heartfelt congratulations on reaching the amazing milestone of 10,000 points as she continues to write new chapters in an impressive WNBA career." In a statement, Cathy Engelbert, the commissioner of the WNBA, said.

"Diana's accomplishment shows how good and determined she is and how much she loves the game. Her incredible scoring ability, clutch performances, and high basketball IQ have wowed fans and made her a favorite. We are proud to be able to see this happen."

Thursday, Taurasi scored first with a 3-pointer from the corner about two minutes into the game. She drove through the Atlanta defense for a layup a few minutes later. At the half, she had 10 points.

In the third quarter, she was right back at it. On the first possession for the Mercury, she made a layup. Then she made two 3-pointers in a row. The last one, a 28-footer over two defenders, gave her 10,000 points.

Taurasi said, "I came here a little nervous because I didn't want to disappoint anyone. I just wanted to finish it so I could feel better." "But I was just trying to win a game simultaneously."

The Mercury has had a rough year, with a 7-19 record. But this was something that everyone in the franchise could be happy about. During the party after the game, Taurasi was given several gifts and watched video tributes from people like NBA commissioner Adam Silver, tennis legend Billie Jean King, South Carolina coach Dawn Staley, and Hall of Famer Magic Johnson.

Taurasi has been the most crucial player for the Phoenix Suns since she was picked first out of UConn in 2004.

She not only has the most points in the regular season, but she also has the most points in the playoffs.

She has won three WNBA titles with the Mercury and has been the Finals MVP twice.

Taurasi has scored an average of more than 19 points throughout her career. In 2006, she scored a career-high 25.3 points. Tina Thompson, who has 7,488 points and is in second place, is more than 2,500 points behind her.

The Dream's Cheyenne Parker scored 20 points.