First thoughts and observations about Liverpool 3–4 Bayern Munich Photo by Stefan Matzke – sam pics/Corbis via Getty Images

First thoughts and impressions

FINALLY. After losing to Manchester City and playing quietly against Kawasaki Frontale, Bayern Munich has finally done something worth discussing. Liverpool had some problems in this game, but coming back from being down 2-0 to win 4-3 is an excellent job by the team.
In this game, Alphonso Davies looked like a new man. After boring games against City and Kawasaki, Phonzie showed what he's made of by keeping Mohamed Salah quiet the whole time he was on the field and putting offensive pressure on the other side. It seems he was holding himself back when he played in Japan, but he went all out this time.
So far, Kratzig has been the biggest surprise of the preseason. What a great goal! It couldn't have been easy for Phonzie to come on, but he's been a tremendous offensive presence on that side during the preseason.
Who is Bayern's best winger out of Sane, Gnabry, and Coman? Still, it's hard to say. Coman made a more considerable difference than Sane when he came on, but Sane scored. They seem to be pretty even.
After a strong start at Bayern, Konrad Laimer has slowed down a bit. Let's hope this is just a short dip.
Jamal Musiala is still a problem for the defenses of other teams. He was by far the most creative player on the team.
Mathys Tel got another chance to start, which could mean that Tuchel is slowly putting more trust in him. Even though he didn't score, the kid's positioning, runs, and linkups are already perfect. He could do an excellent job as a replacement player this coming season.

The final score was Liverpool 3, Bayern Munich 4.
90'+1' — Goal. Kratzig makes the score 4–3! WHAT A CRACKER!
80' — Goal. Stanisic ties the score at 3! This kid is hot!
66' — Goal. Diaz brings it to 3-2. Damn.
60′: Bayern Munich has made six substitutions. Goretzka, Gravenberch, Mazraoui, Stanisic, Kratzig, and Ibrahimovic replace Laimer, Musiala, Upamecano, Pavard, Gnabry, and Davies.
45'—The second half is about to start!
At halftime, Liverpool FC was tied with Bayern Munich.
42' — Goal. Leroy Sane ties the game at 2-2!
33' — Goal. Serge Gnabry puts the score at 2-1! Hope!
28' — Goal. From a corner, Virgil van Dijk makes it 2-0.
2' — Goal. Cody Gakpo gives Liverpool a 1-0 lead.
We're off to a good start in Singapore!
We have lineups, and the game starts in an hour. Mathys Tel plays up top for Bayern Munich in a 4-2-3-1 formation. Thomas Tuchel has decided to put Benjamin Pavard on the right instead of Noussair Mazraoui, and Kim Min-Jae is making his second appearance for the club. Joshua Kimmich and Konrad Laimer are still in the middle of the field.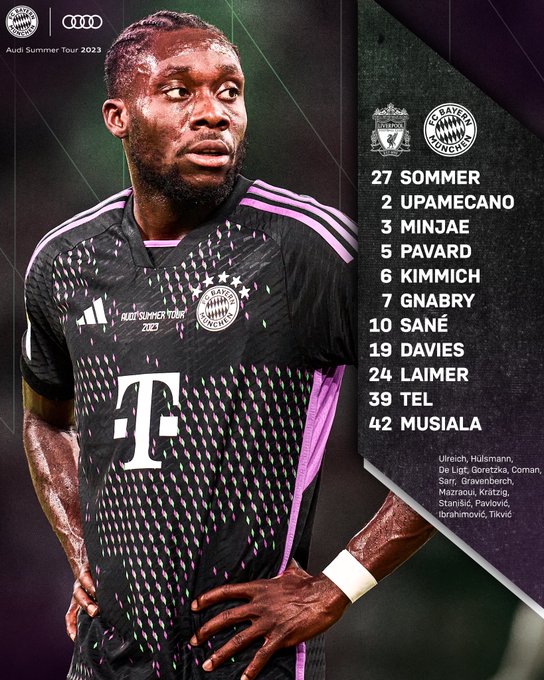 Klopp's team, on the other hand, looks pretty good.
After losing to Manchester City and playing poorly against Kawasaki Frontale, Bayern Munich fans hope to see a response from the team when they play Liverpool FC in the last real preseason game of the year.
Thomas Tuchel, the team's coach, said that the heat of the Asian summer is affecting his players, but that doesn't explain why they haven't been playing well for the past two weeks. The attack is a big worry since the Bavarians have only scored twice in their last two games without a star player like Thomas Muller and a known first-team striker. Before Harry Kane comes, the coach will want to work on that. Imagine how embarrassing it would be if your 100 million euro striker couldn't get any chances to score.
Match Info
Location: Singapore National Stadium, Singapore
Time: 7:30 pm local time, 7:30 am EST
Tips for leaving comments: If you're a new member, please say hello! Most of us are very friendly! Also, we're from all over the world, so don't be shy if you're from a country that doesn't seem to be represented on the blog.
If the comments section slows down for you, just hit the refresh button and keep writing. When you're just following along, having all the comments open at once is unnecessary.
To easily follow the conversation, keep the sorting on "newest." It shows the most recent comments first.
At BFW, we celebrate every goal with a chant, just like at the stadium. Everyone is welcome to join in the goal chants. Even if you're falling behind, you should always answer the last player's name that was called. Even if you missed the first call, you can start from the second, and so on.
You can swear, but please be kind to your fellow posters and don't use obscenities when they aren't necessary. Language that is racist, homophobic, or sexist is not allowed at all.