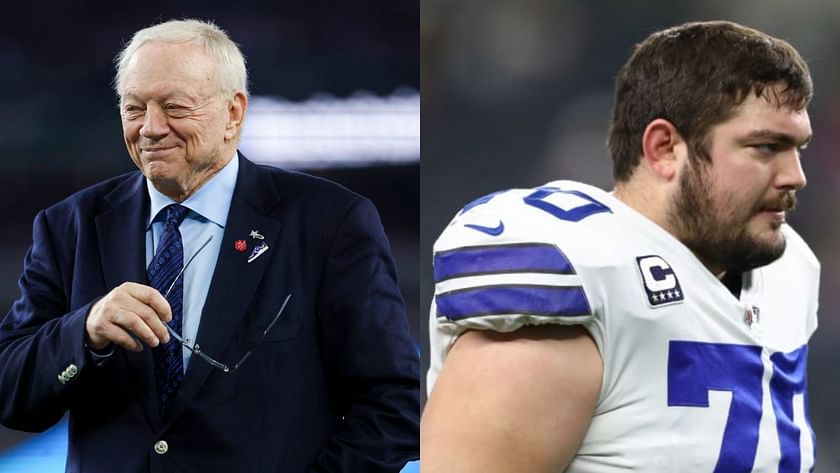 credited to sportskeeda

The owner of the Dallas Cowboys, Jerry Jones, plans to stick to his decision about the holdout guard Zack Martin.

When asked what needed to happen to fix the situation with the six-time All-Pro guard during the NFL's "Back Together Weekend" on Saturday, Jones didn't hold back.

"Nothing. He'll show up at camp when he shows up. "Jones said this, The Athletic's Jon Machota reported. "There is no way out. Many bad things will happen if he doesn't. He was drafted high, got a lot of money, and has made a lot of money over the years. It's just hard to take everything in. In the end, nothing needs to take place."

Martin isn't attending Cowboys training camp because he wants a raise on his contract. At $14 million per year, his average salary over the deal's life ranks eighth among all guards. The 32-year-contract old's has two more years to go.

Martin has been one of the best guards in the NFL for years. He has been a key part of their offensive line since the Cowboys picked him in the first round of the 2014 draft. He has been named to the Pro Bowl in eight of his nine seasons, with the only exception being the 2020 season, which was cut short by injuries.

Jones said that Dallas doesn't want to give Martin a raise because young players on the team, like star linebacker Micah Parsons, need new contracts.

"It's not about what came before. It is about the truth, "Michael Gehlken of the Dallas Morning News reported what he said. "The money is needed to pay Parsons. We need the money to pay the players we still have to pay. That's true."

Martin has to pay a non-waivable fine of $50,000 for every day of camp he misses.