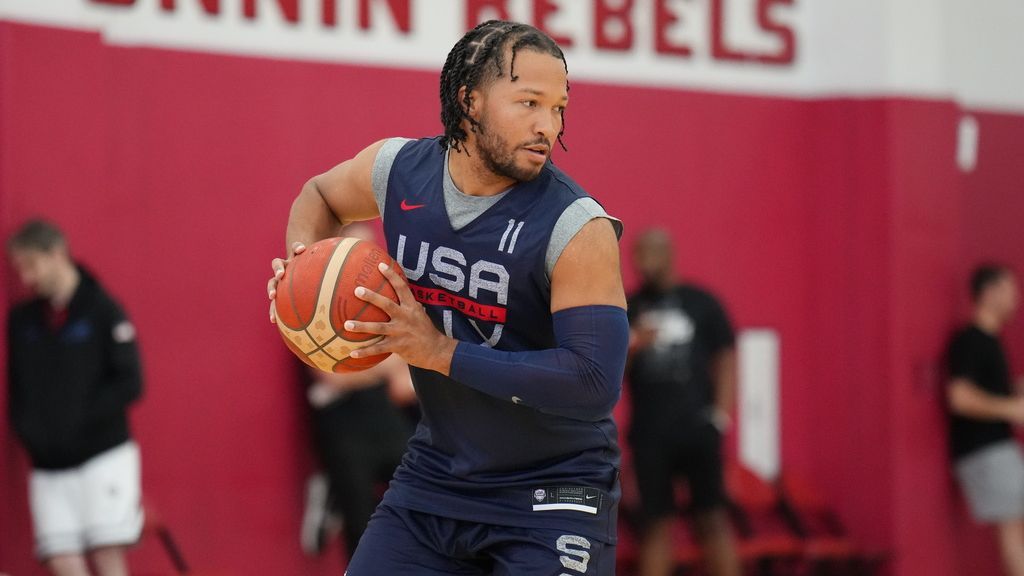 ESPN

LAS VEGAS, NEVADA — Steve Kerr, the head coach of Team USA, thought that the practice on Saturday afternoon in Sin City would end with a few out-of-bounds plays. But on the second one, the senior national team stole the ball from the select team, leaving Jalen Brunson with no one between him and the basket.

And when the 6-foot-1 point guard for the New York Knicks jumped up and dunked the ball, making everyone in the gym stand up, Kerr decided he'd seen enough.

"The Jalen dunk was the end of it," Kerr said with a smile afterward, "because how could you top that?"

It was a fun way to end the third day of training camp here at the Mendenhall Center on the campus of UNLV. It was also a good day for the national team. After losing twice to the select team in scrimmages open to the media on Friday, they dominated the practice battles on Saturday. But it also showed Brunson's role on the team. On Saturday, Kerr said again that he thinks Brunson is the group's natural leader.

Kerr said, "I think Jalen is such a born leader." "He comes to mind right away because he's a point guard. He oversees the "1, 2, 3 USA" chant. Some guys are just born to be good at it."

"But we have a great team. There's a lot of leadership among them, and it's fun to see."

The way Kerr has set up his lineups for the first two days of practice shows that he has faith in Brunson. Kerr has repeatedly said nothing is set in stone, but Team USA has started the last two days with Brunson at point guard, Mikal Bridges and Brandon Ingram on the wings, and Jaren Jackson Jr. in the middle.

On Friday, the fifth starting spot went to Brooklyn Nets forward Cam Johnson. On Saturday, it went to Minnesota Timberwolves star Anthony Edwards. Kerr says the first exhibition game will be against Puerto Rico on Monday night. On Sunday, the team will practice without touching each other.

When asked about his starting lineup and rotations, Kerr said, "By no means is anything set in stone." "As we go along, we learn. I thought that yesterday taught us a lot. We'll learn a lot from what happens today. It's great to have these things on tape to go back and look at them. But because of how skilled everyone is, there will be a lot of exciting ways to put them together.

A few things, though, have stood out. One is the four players who started the first part of the scrimmages over the past two days. Another: Team USA will play small because Jackson, Walker Kessler, and Bobby Portis, the three big men on the roster, have never been on the court at the same time during practice.

Kerr has put Brunson and another point guard, Tyrese Haliburton, on the court a few times, and he likes how everyone on the team can pass the ball.

Kerr said of his two point guards, "Yeah, we played them separately for the first two quarters, and then we put them together." "Guys who know how to pass and have feel can play with anyone. It's fun, though. It's fun to have a lineup with two kinds of point guards. But when Austin [Reaves] is out there, I feel the same way. Austin is so good at passing and seeing the floor.

"Right now, we're just looking at many different ways to combine things to see what we have."

Kerr seems to know, though, that Brunson is the player he'll rely on to lead this team through the next few weeks and hopefully to a gold medal at the FIBA Basketball World Cup in the Philippines. But Brunson, who is here with many other Knicks this week, said he only cares about doing his job.

Thursday, he said, "I have to be myself." "Don't put yourself in my place. Just be me and be in charge. You have to lead by example, use your voice, and know who you're talking to. But the most important thing I've learned from these guys in just one day is that they're all willing to make sacrifices. We need to do that to win, and we have a lot of guys willing to do it.