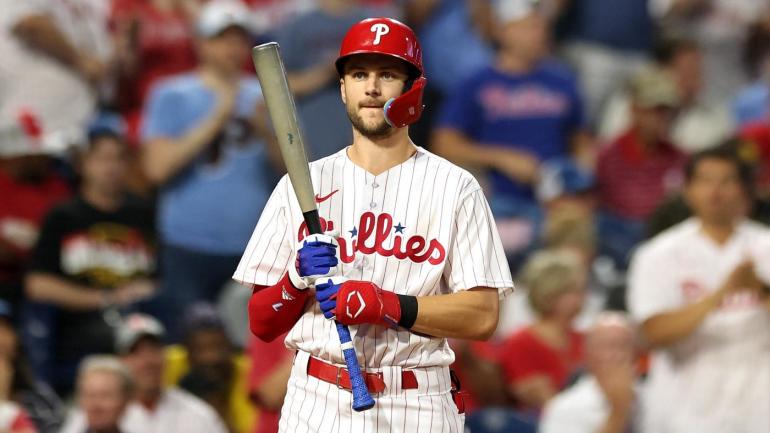 Getty Images

The Philadelphia Phillies' best offseason addition, Trea Turner, is having a terrible season. Even though Turner has been having trouble, Philadelphia fans played against type on Friday night before his first at-bat against the Kansas City Royals.

Turner signed a $300 million, 11-year deal to play for the Phillies during the off-season. So far, in 108 games, Turner has hit. 236 and had 10 homers and 35 runs batted in. That would usually get a lot of boos from the crowd, but not on Friday.

Turner stepped up to the plate in the bottom of the second inning, and everyone in Citizens Bank Park stood up to give him a standing ovation. Even some of his teammates on the Phillies team cheered for him from the dugout.

Turner said it was a very special moment for him after the game, which the Phillies lost 7–5. He went 1–4 and drove in a run.

Turner told the Phillies' website, "I thought it was pretty f—ing cool." "The fans stand up for me. They are coming to help me. It's kind of neat to see. I wish we could have won there and then, but I thought that was great."

Turner also said his mother was crying while watching that first at-bat. He said that the fans of the Philadelphia Phillies "made her happy."

Turner has never had a slump like this before in his career. Turner is in his ninth season. He has a career average of.294 and a percentage of getting on base of.347. Turner had the most hits in the MLB in 2020 and 2021, with 78 and 195, respectively.

The two-time All-Star still has time to turn things around and come through for the fans in Philadelphia. With 52 games left, the Cincinnati Reds, Miami Marlins, and Arizona Diamondbacks are behind the Phillies for an NL Wild Card spot.