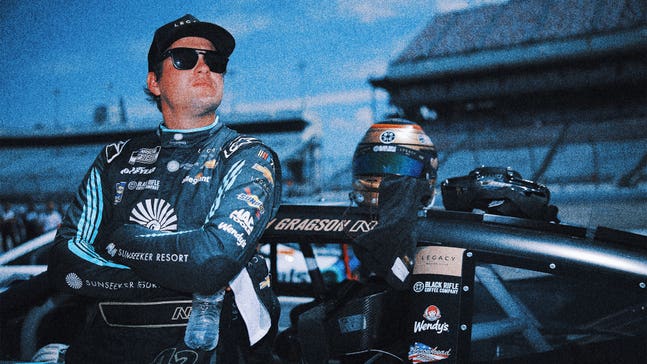 BROOKLYN, MI — Because of a post on social media, Legacy Motor Club banned driver Noah Gragson for life. Josh Berry will take his place in the NASCAR Cup Series race this weekend at Michigan International Speedway.
Gragson, a rookie who has struggled this year, said he was sorry for what he did. He is 33rd in the standings and hasn't finished in the top 10 yet. NASCAR confirmed that Gragson's suspension is because he liked a post on social media that made fun of the death of George Floyd. The post was shared earlier this year and Gragson liked it.
Gragson wrote on Twitter, "I'm upset with myself because I don't pay enough attention to and act on social media." "I'm aware of how bad this situation is. I care about and love everyone.
"No matter who they are, I treat everyone equally. Plain and simple, I made a mistake."
The change was announced by Legacy Motor Club less than an hour and a half before practice on Saturday at Michigan.
The team said, "We have decided to suspend Noah Gragson immediately because his actions are not in line with what our team stands for."
Berry is a full-time driver for JR Motorsports in the Xfinity Series. He is currently fifth in the standings. Earlier this season, he was a backup driver for Hendrick Motorsports. He drove in eight Cup races, with one top-five finish and three top-10 finishes, while Chase Elliott and Alex Bowman were injured.
Since he had already signed with Stewart-Haas Racing, a Ford team, he was not expected to be a fill-in driver for any Chevrolet team for the rest of the year. But Legacy will switch from Chevrolet to Toyota after this season, so Berry could replace Gragson because they were both "lame ducks" at Chevrolet.
No one said how long Gragson would be out of action.
FOX Sports' Bob Pockrass writes about NASCAR. He has spent decades writing about motorsports, including the last 30 Daytona 500s. He has worked at ESPN, Sporting News, NASCAR Scene magazine, and The (Daytona Beach) News-Journal.